Posted by
18August 7:16 PM
A 24-hour performance at the Schauspielhaus.
Posted by
6August 1:46 PM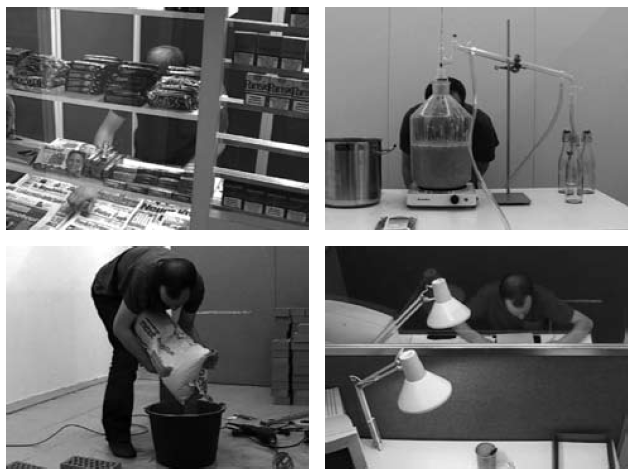 Der Arbeiter in vier gleiche Teile geteilt
Performance von Georg Keller
Im Rahmen der Ausstellung "Shifting Identities – (Schweizer) Kunst heute" tritt Georg Keller an, zu seinem persönlichen Tag der Arbeit. Er wird in einer 24-stündigen Performance verschiedenen Arbeiten nachgehen, abwechselnd als Kioskverkäufer, Alkoholbrenner, Maurer und Büroangestellter. So entsteht auf der Bühne5 im Schauspielhaus eine Art Laborsituation, wo sich im Verlaufe der Stunden die Frage nach den Grenzen des menschlich Leist¬baren stellen wird.
Mittwoch, 13.8., 19 Uhr bis Donnerstag, 14.8., 19 Uhr
Schauspielhaus Zürich, Bühne 5, Eingang beim Zeltweg

Georg Keller *
—SHIFTING IDENTITIES Blog Q&A—
What are your origins?
A quarter swizz, a quarter swizz, half swizz
Officially, you are a citizen of which country?
Where are the places that you have lived for more than 6 months?
Zug, Baden, Zürich, Warschau
Where do you live and work right now?
Zürich
Is [the country you are living in now] your final destination? If not, then where else?
Future plan is to live in Zürich and Warschau. Final destination? Nobody knows
Name 3 changes you would like to see of Switzerland? (please answer even if you don't live in Switzerland)
a. Die Schweiz ist ein nettes kleines Land, mit hohem lebensstandard (manchmal übertrieben). Das führt dazu das viele menschen sehr selbst zu frieden sind, und glauben das alles zu verdienen, das recht auf diese standards zu haben. –> auch mal über den tellerrand schauen.
b.
c.
If you are living elsewhere, name 3 changes you would like to see of that country you are living in now.
a.
b.
c.
What is your favourite recipe?
Lebensmittel, die aus/von der erde kommen, wo die sonne darauf schien